This nonfiction book began with the author receiving one photograph of James U. Corkern, a ball turret gunner on a B-17G flying out of E. Anglia at the close of WWII. The story grew to include the last living member of that crew, Roy Reid, the navigator. The story is completed with the introduction of the other crewmembers, their aircraft, and their lives and missions in the 34th Bomb Group, 8th Army Air Force.
The book is 6" x 9" and has 39 photographs, one map, and 34,600 words. There are 10 addendum entries giving additional details of the circumstances of the crew's combat conditions.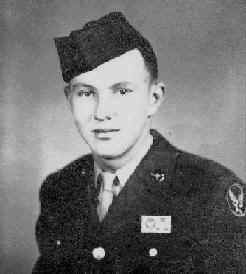 James U. Corkern (Corkern photograph source)
The following is from navigator Roy Reid's mission log for only their second mission (Mx. #114). They were flying B-17G, 44-8321 B/F, and though it was their second mission, it was the aircraft's twenty-eighth.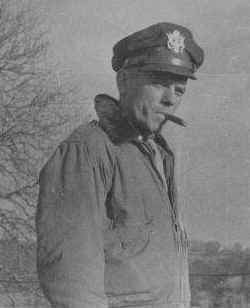 Roy Reid (Corkern photograph source)
Excerpt from Chapter IV.
"January 16, Tuesday, the crew took off for a mission to Bitterfeld. At about 12,000 feet over England, #3 engine almost caught fire and we had to feather engine." [Corkern wrote that the "#3 turbo ran away and we had to turn back."]
"We had to fly three hours and drop our bombs over the channel, and when we got back, weather had closed in at base.
"We found field on instruments and circled for thirty minutes trying to see runway. We were at 300 feet on three engines. It was impossible to land so we were ordered to go to Woodbridge. We did and landed. [Woodbridge is fifteen miles southwest of their home base of Mendlesham.]
"At the same time that we aborted, Jones in E (Easy) 'Old Crow' had his #3 engine catch on fire. He pulled out of formation and started bailing his crew out. We saw five men come out and chutes open and later learned that they all got out."
Corkern wrote, "However, ball turret gunner came down close to plane wreckage and concussion from explosions killed him."
Bomb group records show that "Old Crow" was B-17G, 43-38392 B/E and the pilot was W. S. Jones. All had bailed out and had chutes open, but the concussion of the plane exploding as it struck the ground collapsed the chute of the ball turret gunner, Robert Mather. He fell 150 to 200 feet.
For a long time, Western Europe had been a dangerous environment and there were many ways of being injured or killed.
After experiencing the dangers of taking off into complete overcast while fully loaded with bombs and fuel, the Corkern crew did not get credit for this mission...they had not crossed the battle line.