BALL TURRET GUNNER:
Weather Bad/Flak Heavy (Soft Cover)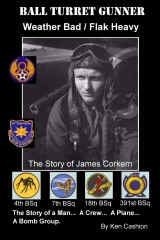 In 2002, the author received an e-mailed image but no other information. He was asked to analyze the image. The author surmised that the fellow was posing beside the ball turret of a Boeing B-17 Flying Fortress.
The author, a researcher wanted to determine Who, What, When, and Where.
This book is the result of the author's in-depth research. He located the last living member of
the bomber's crew and this man provided copies of his original mission notes. The author located and interviewed many WWII bomber crewmen, as well.
The story expanded to include this particular aircraft's crew, their missions, and the stories of
their flight group.
The book's appendix is a virtual encyclopedia of personal air combat in WWII Europe.