LONG CAPTIONS VOLUME TWO:
Thirty-Three True Stories (Soft Cover)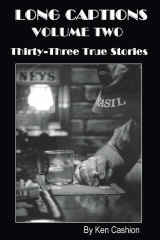 The original "Long Captions" was to be a single volume; however, for convenience this is now two volumes.
This book has thirty-three true stories and as such, it is primarily a little book of little stories with each story relating to a photograph. Most of the 73 photographs had never been published and are the property of the author. The stories are detailed captions for the photographs.
The stories/captions were written to inspire or perhaps to provide some humor. Some stories may be thought-provoking; however, most were written to simply entertain the reader.
Some stories are historical in context and may even be educational.
Some are purely autobiographical; however, since the author feels that he is not that unique, he is likely addressing something that others have experienced - or wished they had.
Some stories existed long before this book was even thought of. In some cases, the stories go back to 1944.
No story was written just to fill a book.
And always, no picture - no story.