SOLDER SLINGER:
An Engineer's Journey From the Future to the Past
(Soft Cover)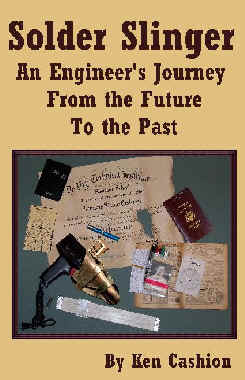 The title for this book was not invented as a play on words, but rather it was revealed as the author was well into writing the story of his career. He had been asked by many people to write this book.
He knew his story was unique in several ways, but he also knew his natural curiosity was his prime motivation. Anything that satisfied this curiosity would be called "fun" -- other people could call it "challenging" or "intriguing."
This book is his invitation to the reader to retrace that journey with him-- from his first serious schooling to huge bombers carrying nuclear reactors; to missile destruction equipment to the missile that played a role in the dissolution of the Soviet Union. From that to NASA and space exploration and then to solar research for astronaut protection and finally performing earth resource evaluations.
If this were fantasy, it would have been easier to write, but his journey is a true story and one he was destined to make. Although the book is technical in content, the terms are explained so any reader will have an understanding of what is taking place.
Though this is a true story, there are still giants and heroes. The giants and heroes taught him valuable lessons; unfortunately, there are villains and they could not be avoided. The described events began well in the past, yet continue even today.
He still believes that he is the luckiest man to walk the planet. Read this book and learn why the author believes this.