MUSINGS FOR MUSIC LOVERS:
With A Bit Of History (Soft Cover & eBook)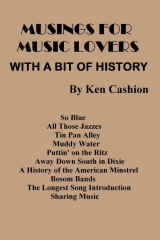 This book is an account of the development of American popular, commercial music. Topics discussed are the origins of the term "blues, "jazz," Tin Pan Alley, Southern influence in music, American minstrelsy, female-led orchestras, and there is a discourse on the sharing of music.
The book has 20 photographs, a bibliography, and two relevant music listings.
To Purchase ebook --